Despite the challenging conditions faced by producers during 2019, New South Wales new season lambs have started to enter the market earlier than they have in the previous two years, albeit still in low volumes.
Last week over 13,000 new season lambs were recorded in NSW saleyards, with Dubbo, Forbes and Wagga Wagga all yarding over 2,000 head.
The lift in new season lamb yardings, combined with fewer processor buyers – due to winter maintenance shutdowns – has underpinned the price decline across all categories in the last week. On Tuesday, the Eastern States Trade Lamb Indicator (ESTLI) eased to 851¢/kg carcase weight (cwt), back 44¢ on last week.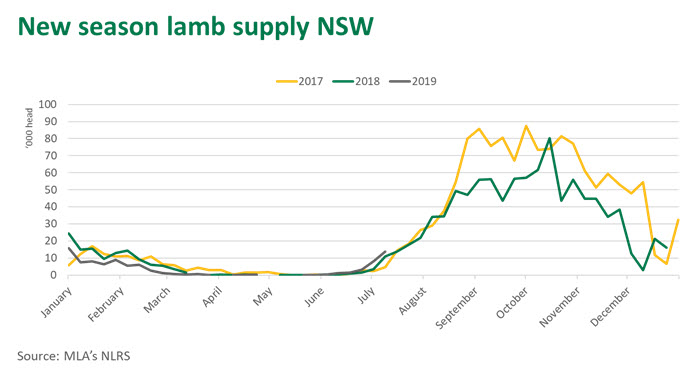 In 2018, the supply of new season lambs in NSW failed to reach the heights of 2017, a major factor in the record prices recorded across the state. On the back of sustained dry conditions and expectations for significantly reduced lambing rates across the board, the supply of new season lambs this spring is not anticipated to surpass 2017 levels. However, how it tracks against 2018 levels as the season progresses will play a major role as to where prices end up.
Last year, many of the initial runs of new season lambs were very light weights, as producers were not anticipating the severity of the dry through winter into spring and grain prices over this period were trading at the highest levels since 2008. For the week ending 2 August, the average weight of new season lambs entering saleyards was 19kg carcase weight, an increase of 2kg on the corresponding week last year.
Producers with lambs on hand but limited feed have refined their production systems to reflect the difficult conditions, with an increased focus on supplementary feeding and lot feeding lambs. Given the strong returns for finished lambs and more favourable grain prices compared to 2018 levels, the delay in well finished new season lambs hitting the market may not be as pronounced as last year. However, fewer lambs overall are anticipated to limit supply and drive competition, supporting prices through into spring. The timing and size of the Victoria lamb crop, which usually drives east coast supply from October onwards, will also have a big impact on prices.
© Meat & Livestock Australia Limited, 2019