21 November 2018
The Eastern Young Cattle Indicator (EYCI) has strengthened this week – on Tuesday the indicator was 526¢, an increase of 12.25¢/kg carcase weight (cwt) from last week. On the back of forecast rain, supply declined – particularly in NSW. Wagga Wagga, Forbes and Gunnedah yarded less than half the supply of EYCI eligible cattle than the previous week's sales.
North vs South
Currently, it is somewhat a tale of two markets, with northern saleyards, and Queensland in particular, stronger than the southern markets. Roma and Dalby saw good competition with average prices for EYCI eligible cattle above 530¢, while those at Warwick and Toowoomba averaged over 515¢/kg cwt. Overall Queensland prices for EYCI eligible cattle improved by just over 1% week-on-week.
Northern NSW saleyards also performed well over the past week. EYCI eligible cattle at TRLX Tamworth and Gunnedah recorded average prices over 550¢/kg cwt. CTLX Carcoar, Forbes and Dubbo averaged above 530¢, while further south in NSW at Wagga Wagga, EYCI eligible cattle averaged 508¢/kg cwt.
The EYCI contributing saleyards in Victoria are not performing as strongly as their northern counterparts, although have recorded a similar increase of 1% week-on-week. EYCI eligible cattle in Victoria traded at a 51¢ discount to Queensland saleyards and 47¢/kg cwt below the average NSW price, averaging below 500¢/kg cwt over the past week.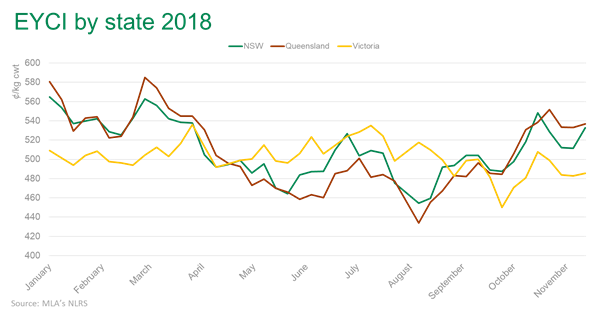 In brief, over the last 7 days, these are some of the larger contributing sales to the EYCI:
Roma store – 2,586 head of EYCI eligible cattle yarded – 544¢/kg cwt average price
Dalby – 2,507 head – 531¢/kg cwt
Wagga – 1,503 head – 508¢/kg cwt
NVLX Barnawartha – 676 head – 491¢/kg cwt
Click here to download a brochure with further information on the EYCI.