14 February 2019
2018 was a year of records, with Australian sheepmeat export values reaching new highs and beef export values to Japan surpassing $2 billion for the first time since 2008. Here we look at all the key figures.
Cattle
Australian adult cattle slaughter totalled 7.86 million head (ABS), up 10% year-on-year. The dry conditions that prevailed throughout the year and subsequent widespread destocking, especially within the female herd, elevated adult cattle turn-off. At a state level, NSW adult cattle slaughter increased 12% (195,000 head), QLD turn-off lifted 8% (282,000 head) and Victoria saw an additional 25% (328,000 head) processed, albeit the increase was amplified by the impact of the Murray Bridge plant closure in SA, where adult cattle slaughter declined 41% (152,220 head).
On the back of higher slaughter numbers, beef production totalled 2.28 million tonnes carcase weight (cwt), up 7% year-on-year. This is despite a decline in average adult carcase weights to 291kg/head (-2%), driven by the female portion of total slaughter increasing.
Australian beef exports ended 2018 at 1.13 million tonnes shipped weight (swt), the third largest year on record and the sixth consecutive year exceeding one million tonnes swt. Japan (+8%), the US (-1%) and Korea (+15%) lead the way as the three largest markets; however, it was China who recorded the largest growth (+48%).
Australian boxed beef exports were valued at $8.67 billion FOB in 2018, the second highest year for beef returns (ABS). The beef export unit value ($/kg) also managed to achieved growth in 2018, despite the pressure of the large increases in volume. Export values averaged $7.36/kg, up 4% from year-ago levels and 15% higher than the five-year average ($6.42/kg), partly assisted by favourable currency movements.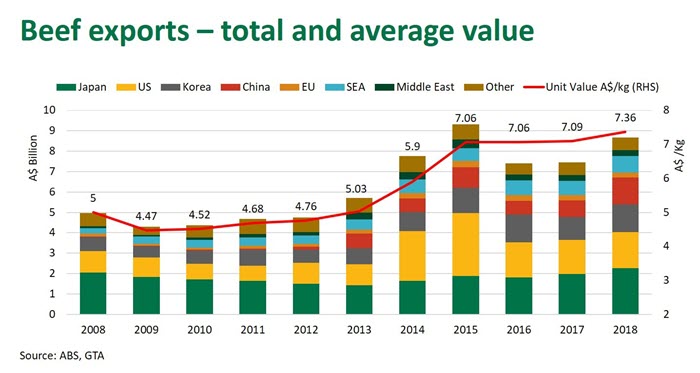 Shipment values to Japan lifted 14% to $2.27 billion, surpassing the $2 billion mark for the first time since 2008 and ensuring Japan remained Australia's largest beef export destination on a value and volume basis.
The value of beef exports to the US totalled $1.75 billion, up 5% year-on-year. Despite total export volumes remaining close to static, export values were supported by robust competition between North Asian and US buyers for Australian manufacturing product. Growth in the premium chilled grassfed category also supported returns.
The value of shipments to Korea increased 25% to $1.37 billion, edging past the previous record set in 2016. Increasing US production and resulting export growth challenged Australia's market share in 2018 – as was the case in 2017 – however, increased availability from Australia of both grassfed and grainfed product helped drive value gains.
Export values to China surged 56% to $1.29 billion, easily a record for the market. China has transformed from a minor buyer of beef to a global importing powerhouse and the Australian beef industry has been a beneficiary of this expansion. Frozen beef values to China unsurprisingly accounted for 88% of all returns, given the lack of eligible plants approved to export chilled product to China. The value of frozen beef exports to China also made it Australia's highest value frozen beef market, knocking the US off the top spot.
Sheep
The national lamb kill in 2018 totalled 22.73 million head, up 1% from 2017 levels, while total Australian sheep slaughter for 2018 was 9.52 million head, up 26% year-on-year.
The first six months of 2018 saw unseasonably high lamb slaughter – the first time national slaughter has exceeded 12 million head over the first half of the year – before declining through winter and early spring as it became more difficult to finish lambs.
Sheep slaughter saw inverse trends. As the season deteriorated through the winter of 2018, sheep slaughter spiked as many producers worked hard to reduce stocking rates and feeding costs and processors sought to keep kill floors running.
Despite the seesaw in supply throughout 2018, lamb production totalled 511,000 tonnes carcase weight (cwt), unchanged on 2017 and short of the record set in 2016. High sheep turn-off saw totalled mutton production reach 225,000 tonnes cwt, up 20% year-on-year.
The aforementioned increase in turn-off helped compensated for the decline in carcase weights. Sheep carcase weights averaged 23.6kg/head, a decline of 6%, while the average national lamb carcase weight in 2018 was 22.5 kg/head, back 1%.
In 2018, Australian lamb exports increased 7% year-on-year to a record 267,000 tonnes shipped weight (swt), while mutton shipments jumped 23% to 180,000 tonnes swt. China and the US remained Australia's biggest sheepmeat markets on a value and volume basis.
Australian sheepmeat exports were valued at $3.57 billion FOB in 2018, the highest combined sheepmeat returns on record (ABS). Lambs exports contributed $2.39 billion or 67% of total value, also a record. Robust international demand and a low Australian dollar helped support Australian exports and domestic saleyard prices. Records were broken in 2018 as markets around the world competed strongly for Australia's high quality sheepmeat, in turn driving sheepmeat returns. The combined sheepmeat export unit value averaged $7.58/kg, up 6% from year-ago levels and 25% higher than the five-year average ($6.04/kg). Lamb export values averaged $8.53/kg, a lift of 7% on 2017 and mutton export values increased 8%, averaging $6.18/kg.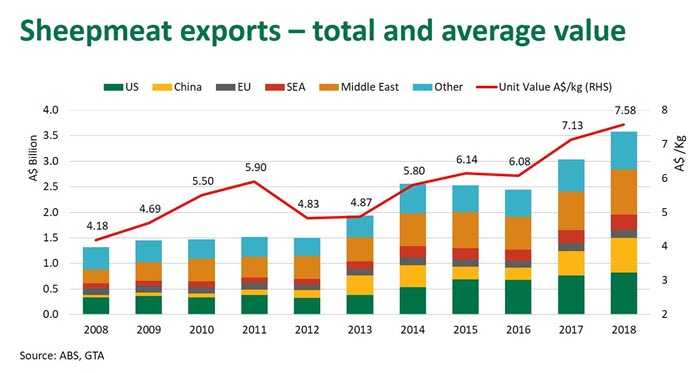 The value of sheepmeat exports to the US totalled $823 million, up 7% year-on-year. Lamb exports accounted for $696 million of sheepmeat export value to the US. Sheepmeat export volumes lifted 9% over the same period, as the US increasingly looked to imported sheepmeat to satisfy consumer demand, as local production continues to decline.
Shipment values to China lifted 44% to $680 million, as sheepmeat is increasingly playing an important role in meeting the surging protein demand among the wealthier urban consumers in China. Lamb and mutton export returns accounted for 49% and 51% respectively of the total sheepmeat value to China in 2018.